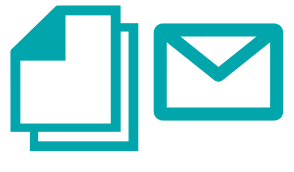 Our on-site print facility has the ability to produce banners, posters, business stationery, leaflets, stickers, brochures and business cards. 
Our print factory enables your business access to optimum document management solutions with considerable potential for cost savings.
We are ISO 9001 (Quality Management), 14001 (Environmental Management), and 27001 (Information Security) accredited.
We can create a framework for you to build a print strategy for your business, with potential to deliver increased security and productivity.
For more information visit the Torbay Direct website. 
HubMail
A centralised, secure printing and distribution/delivery service. We are a forward thinking and customer orientated organisation providing simple cost effective solutions to consolidate traditional mail from any desktop applications. Our HubMail Hybrid Mail product enables you to send office mail from your PC or network, quickly, simply and securely.
For more information visit the Hybrid Mail Direct Opens in a new window website. 
---
Contact Print and post services