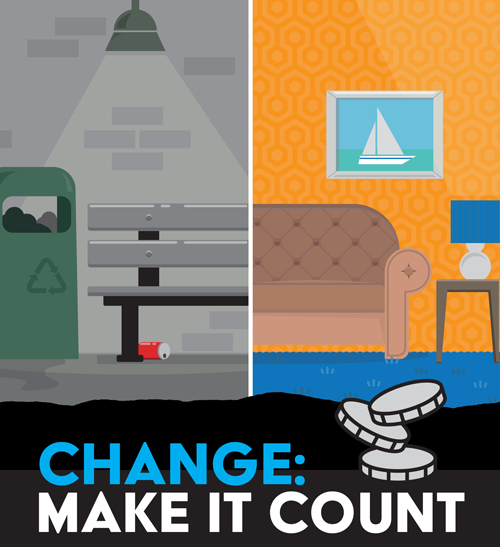 Change: Make it count
This campaign has been produced in collaboration with the Torquay Town Centre Partnership and the organisations signed up to the TESH (Torbay Ending Street Homeless) Campaign.
In no way are we suggesting that people shouldn't be kind.  What we are asking is that if you really want to help change the lives of people who have a real need that you do it in ways other than giving money on the street to individuals who beg. 
What we would like to see is homeless people in homes.  
How can you make a difference
If you'd like to make a big difference to someone's life, and a difference that lasts, you can:
Make a donation to TESH who will use the money to buy essential household items when supporting someone into accommodation. (Please note TESH are unable to claim gift aid for this campaign).
Put money in the collection boxes in various business premises in Torquay Town Centre.
Make a donation direct to one of the charities or organisations working with the street homeless (this list is not exhaustive).  You can find collection tins in Dot's Pantry, Wilkos, Lloyds Bank, Natwest Bank, Hoopers, WH Smith, Maggie & Co, Jane's Gift Shop (Victoria Parade), Boots (The Strand), The Noodle Shop and Cambridge Diet office in Castle Circus House:
Donate your time to one of the organisations working with the homeless to give practical help
Rather than give money to someone on the street, ask if they'd like some food or drink instead
Donate food at one of the supermarket collection points or food banks
No money which has been donated via the CHANGE: Make it count campaign will be used towards staffing costs.  ALL money donated will directly benefit a homeless person.
Donating
Shekinah have generously allowed the campaign to use their existing JustGiving Account to raise funds, for which we are very grateful. All monies raised will be used to buy essential household items when supporting someone into accommodation. Shekinah will not receive any money from this campaign.
All monies raised will be used to support someone who is homeless into accommodation and will benefit them directly. Shekinah will not receive any money from this campaign.
Worried about someone sleeping rough?
To contact outreach services call 01803 217890 who will arrange to contact the person concerned. Please give as much information as possible to enable them to be located.
Report begging
Begging is an offence and the law is there to protect everyone. Giving help to those who need it and who are willing to access it is important to us, but we also have a responsibility to the wider community. 
You can report street begging in Torbay to the police by telephone 101 (non-emergency number), email 101@dc.police.uk or to our Anti-Social Behaviour Team on 01803 208025. 
FAQs
People who are street homeless can obtain food, drink, washing facilities etc and support with accessing any benefits they may be entitled to through existing services, drop ins and voluntary groups.  Everybody is unique and everybody has a different story to tell.  In the majority of cases the individuals who beg in Torbay are known to us and partner agencies.  We can't guarantee that money given on the street with the intention of buying a cup of tea will be used for that purpose.
However, all money donated via the Change: Make it count campaign will reach street homeless people and will be used towards setting them up in a new home.  However much you can afford will help to make a difference.
Unfortunately, there is no guarantee that the money you give is used positively.  Some (but by no means all) individuals who beg have damaging addictions which puts them at risk of harm to their health but also makes them vulnerable to being the victims of robbery, assault or sexual violence.  They may also appear aggressive or intimidating to passers by. 
If you'd like to give something, offer food or drink or choose to donate online or text TESH01£2 (or amount of your choice) to 70070 instead [TESH isn't eligible to claim gift aid for this campaign].
Whatever someone needs help with: finding a home or dealing with a mental health issue or addiction, begging on the street is not the answer.  They need proper help which is why we have services and support workers who can help them access relevant help.
If someone is sleeping rough they can access any benefits to which they are entitled and get food, clothing, washing facilities, support and more through existing services and voluntary groups.
When we see someone begging it's natural for us to make assumptions about their circumstances, but everyone's story is different.  Homelessness is a very serious and complex issue and we will continue to work with individuals who need accommodation and to offer them the support they need.  We would ask you to support the organisations working with the homeless rather than give money on the street. 
Rough sleeping is not just a local issue.  It is a national issue.  It is serious and is something we want to put an end to.  However, there is no 'one size fits all' solution and people living on the streets generally have varied and complex needs.  We may have a duty of care to offer safe temporary accommodation but being homeless is not a crime.
You can make a donation to local organisations working hard to support people who are homeless.  That way you know that your donation is going towards something that is actually going to help people.  If you want to do more, you could donate some of your time as a volunteer.
---
Contact Community Protection