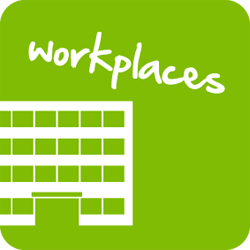 As part of the Local Sustainable Transport Fund Project Opens in a new window funded by the Department for Transport, we are offering a free Travel Plan to organisations that are located within Torbay.
A travel plan is created with the intention of managing the transport needs of an organisation or a single location that is shared by several, different organisations.
The main aim is to reduce the use of private vehicles - in particular single occupancy car users, as well as promoting various forms of sustainable travel.
A travel plan can help businesses to:
Improve access to workplaces for staff, visitors and customers
Save your workplace and staff, money
Enable a healthier and more productive workforce
Reduce car park congestion
Aid with staff recruitment and retention
Become more sustainable
Travel Planning can be used just about anywhere. Here we have a Travel Team that focus on both workplaces and in schools.
As a business with the drive to succeed and the enthusiasm to maintain your current prosperity, creating a Travel Plan can:
Save you money as an employer!
Decreases the cost of providing and maintaining a car park – which in turn, solves problems caused by the demands of parking.
Cuts mileage claims and any other business travel costs.
Reduces the costs of running a fleet of cars. (If applicable)
Reduces the time that staff spend travelling on business.
In addition to money saving, having a Workplace Travel Plan can:
Improve your image with customers, suppliers and propositions. It is very desirable to many to be a 'green' business.
Solve delivery and custom access issues caused by traffic congestion on or around your site.
Help recruit and keep staff by allowing more options for travel and making journeys to work, easier and cheaper which in turn improves your image as a responsible employer.
Improve your Corporate Social Responsibility (CSR), reputation as well as meeting environmental targets.
Workplace Travel Plans can also contribute towards a planning application for an accommodation extension on your site or even for a new site. Allowing your business to grow!
In addition to the many benefits you could sustain as an employer, you may be wondering what your staff could gain from a Travel Plan too? What would make them jump on board with your Sustainable Travel Plan?
A key benefit for your employees could be the reduced cost of travel to work or even remove the need to own a car.
Reduce journey time to work. Travelling to work by bicycle or by foot may help your employees to avoid the dreaded congestion of back to back road traffic, as well as allowing them to travel through safe, designated cycle/pedestrian short cuts.
Provide a better work-life balance through flexible working and less need to travel on business.
Provide benefits to a wider range of people by transferring from travel based perks to incentives for sustainable travel, available to all staff, including those without a car.
Hold a road show
A road show is a free, one off event that is hosted within your Workplace by a Torbay Travel Plan Advisor, typically over a lunch break and usually takes a couple of hours (although this of course can be catered around your working schedule) to discuss the likes of what a Travel Plan is, along with its many benefits. It's also a fantastic opportunity for all members of staff to:
Sign up to a free Personalised Travel Plan (PTP)
Receive an incentive towards using sustainable travel
Discuss any questions you may have with regards to sustainable travel options
Gain information on the Government's Cyclescheme initiative
It also gives you the chance to arrange a further meeting for you to create a personal Workplace Travel Plan with Torbay's Travel Advisor, free of charge.
Alternatively, a one to one informal chat within your workplace can be arranged for our Travel Plan Advisor to discuss potential plan ideas to suit the needs of your business and to give you a clearer insight as to what a Travel Plan is.
---