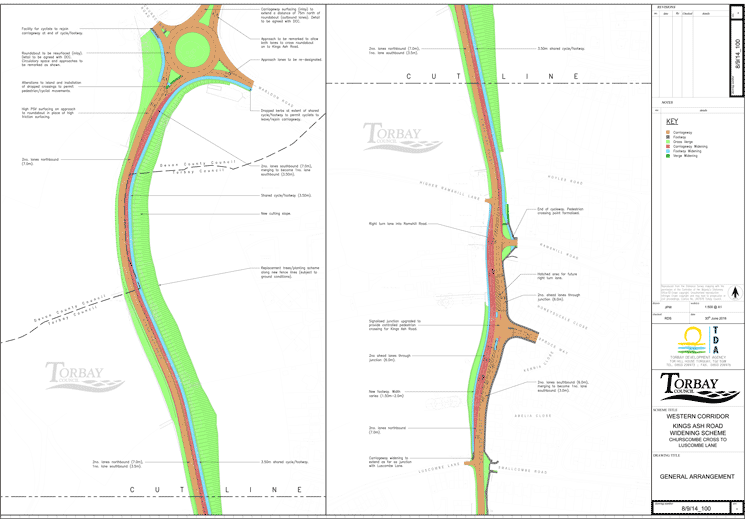 The scheme is to widen the A380 Kings Ash Road from Churscombe Cross roundabout to Luscombe Lane. The road will be widened to two lanes northbound towards the dual carriageway from the traffic lights at Spruce Way. There will be a single lane southbound, from the top of the hill to the junction with Ramshill Road, where there will be two lanes through the traffic lights at Spruce Way. A right turn lane will be provided for traffic to turn into Ramshill Road.
The roundabout at Churscombe Cross will be resurfaced and the lane markings altered to allow both lanes of the dual carriageway to enter Kings Ash Road before merging back to a single lane. 
The top of the hill on Kings Ash Road is being lowered by up to 2.0m to increase the forward visibility, which is currently below the required standard for a road of this type. In order to carry out this work the road will have to be closed to all traffic for a period of 7 weeks. The dates of the road closure are given below.
The traffic signal junction at Spruce Way will be enlarged and the existing life expired lights replaced. There will be a right turn lane for traffic turning into Spruce Way, and a pedestrian crossing of Kings Ash Road at the junction. A new footway will be provided from Luscombe Lane to Higher Ramshill Lane, on the West side of Kings Ash Road, and a new 3.0m wide footway / cycleway on the East side between Ramshill Road and Churscombe Cross roundabout.
There are also several Utility diversions to be carried out as part of the scheme, including the installation of four new storm water storage tanks, new gas and water mains, and diversions of BT and electric cables.
The new cutting slope on the East side of the road will be landscaped on completion of the scheme, and it is hoped that some trees and hedges will be replanted and a wildflower seed used in place of grass. 
Key Dates
Scheme Duration:  13 February 2017 to 15 December 2017
Road Closure: 13 February 2017 to 31 March 2017
Diversions
The road will be closed to all traffic between Churscombe Cross roundabout and Higher Ramshill Lane. The existing road will be completely removed in places so there will be no through route during the works.
Towards Brixham
Diversions will be in place southbound from the end of the new South Devon Highway, directing traffic towards Torquay seafront and along the coastal route to Paignton. From Paignton Town Centre traffic will be routed along Totnes Road to Tweenaways Cross.
At Churscombe Cross roundabout traffic will be diverted down Marldon Road into Paignton town centre, before directing them back to Tweenaways Cross via Totnes Road.
Towards Torquay
Northbound diversions will be in place from Windy corner, diverting traffic along the coastal route to Torquay where traffic will be routed back along the A3022 to Riviera Way and back to the South Devon Highway.
At Tweenaway Cross traffic will be diverted along Totnes Road into Paignton and along the coastal route back to Torquay, where traffic will be routed back along the A3022 to Riviera Way and back to the South Devon Highway.
At Colley End Road traffic will be diverted down to Torquay Road and directed towards to Torquay along the coastal route, where traffic will be routed back along the A3022 to Riviera Way and back to the South Devon Highway.
There will be a local diversion along Ramshill Road to allow access to Kings Ash Road for residents and deliveries etc. There will be some places along the diversion routes where parking will be restricted in order to allow the higher volumes of traffic to pass.
Further works
There will be further evening/night time closures of Kings Ash Road in the Autumn to allow final surfacing of the new and existing road, and the exact dates of these closures will be published on this page as soon as they are known.
FAQs
The Western Corridor scheme is proposed to improve one of Torbay's main strategic routes and is expected to boost the economic development of Torbay by improving access to both existing and planned sites for employment and housing.
The initial phase of the Churscombe Cross to Luscombe Lane scheme requires part of the existing road to be excavated and lowered in level to provide additional visibility required for safety reasons. This will involve substantial earthworks and it is not possible to carry out this level of works without a full road closure.
The contract has determined the length of time allowed for the full road closure and it is therefore the responsibility of the appointed contractor to determine how he will programme the works within this tight timescale. Progress will be closely monitored during this time.
Diversions will be signed along the most appropriate routes and advance signing will also be used to encourage drivers to use alternative routes on the approach junctions. Unfortunately, this will place additional pressure on the highway network, especially through Paignton and this will be closely monitored during the closure period.
As the closure is required for 7 weeks it is not possible to completely avoid a school holiday period. It is therefore considered more important to avoid the Easter break as opposed to the much quieter February Half Term. In addition peak time traffic levels are much reduced during school holiday periods and this will assist drivers to get used to the closure and consider alternative travel plans.
---