Hopes Nose is a unique and significant coastal area of Torquay, recognised formally as a Site of Specific Scientific Interest (SSSI) and important for the Global Geopark status enjoyed by Torbay. A natural beauty spot enjoyed by walkers, geologists, ecologists, anglers and other recreational users both local and from further afield. The geology of the area is of international importance and as such brings people from all over the world. It is therefore important for leisure and tourism in Torbay. The site is managed by Torbay Coast and Countryside Trust (TCCT).
It is an area of protruding coast accessible only on foot via a footpath down from Ilsham Marine Drive, or via the sea. It is an extremely popular angling spot by fisherman casting from the rocks due to the position the 'platform' of rock commands into the sea. Different species of fish are targeted by anglers but is perhaps most notably popular for reliable mackerel fishing, which can often be caught in large numbers.
Unfortunately over the years the area has been misused resulting in vast quantities of litter being left , the result of picnics, BBQs / campfires, camping and waste associated with angling. Most people who take part in angling and other leisure activities at Hopes Nose do so responsibly and with respect for the environment, however, a significant few are ruining the area for everyone and risk the site being closed to the public.
Torbay Council has been working with a range of organisations and individuals to address these issues and has introduced of a Public Spaces Protection Order on Friday 16 September 2016 under the Anti-Social Behaviour, Crime and Policing Act 2014. The order imposes certain conditions on all people who visit and use the area: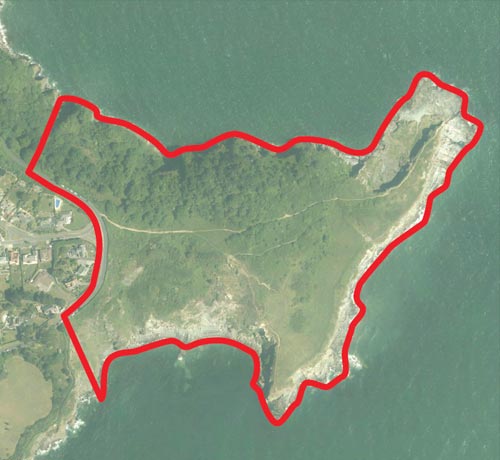 Conditions
No individual shall be permitted within the area edged red on the attached map to catch more than 20 mackerel within any 24 hour period. Any surplus mackerel must be returned to the sea immediately.
At the request of an Authorised Officer, an individual must show all caught fish to that Officer for inspection (an Authorised Officer is an Officer of Torbay Council, Devon & Cornwall Police and/or Torbay Coast and Countryside Trust and their representatives).
An individual shall immediately leave the area edged red on the attached map when directed to do so by an Authorised Officer and must not return to that area within 48 hours of that direction.
No camping shall be permitted at any time within the area edged red on the attached map.
No individual shall be permitted to erect a tent, shelter, bivouac or anything of a similar nature within the area edged red on the attached map.
No individual shall drop, deposit or leave any form of litter or waste within the area edged red on the attached map.
No individual shall be permitted to light a fire, barbeque or anything of a similar nature within the area edged red on the attached map.
No individual shall be permitted to be associated with a fire, barbeque or anything of a similar nature within the area edged red on the attached map.
No individual shall intimidate, obstruct or interfere with another individuals enjoyment of the area edged red on the attached map.
Frequently asked questions
A PSPO is an order that a Council can make under the Anti-Social Behaviour, Crime and Policing Act 2014 to impose certain conditions within a specific area. Any conditions imposed must be reasonable with the aim of reducing or stopping anti social behaviour from activities that have or are likely to impact on the quality of life of those using the area. Such conditions may require people to do or not do specified things. Failure to comply is an offence and can be punishable by the issuing of a Fixed Penalty Notice (FPN) as an alternative to going to court or by prosecution.
This is the first PSPO introduced by Torbay Council and lasts until 1 December 2017. It will be regularly reviewed up until this time to see if any changes or extension needs to be made.
Hopes Nose is mostly enjoyed by anglers but also walkers, geologists, ecologists and other outdoor enthusiasts as a unique and important beauty spot. The area has sadly been misused by a significant minority of people who take no responsibility for their actions and leave the area in a mess. Litter is often in the form of food wrapping, used BBQs, fishing debris, empty alcohol containers and camping gear. Such waste is primarily left by those who spend a lot of time fishing for large quantities of mackerel. BBQs and camping are not permitted on the site anyway but Torbay Coast and Countryside Trust (TCCT) who manage the land have no formal powers to enforce this. There have also been reports of intimidating behaviour towards other anglers and boat fishermen.
The impact on this is that many people who would ordinarily want to enjoy Hopes Nose simply avoid it. It also causes significant distress to those who go to enjoy such a beautiful location, for whatever reason, and see it treated like a rubbish dump. As it is also a designated SSSI and important in our UNESCO designation as a Global Geopark, further distress is caused by the threat this causes to the unique geology and wildlife of the area.
Given the remote location it is not an area easy to patrol or monitor for littering offences. Signage put up to address these issues has either been vandalised or ignored. This is why a different approach is needed to tackle the issues. If no meaningful improvement is made TCCT have no option but to close access to the public as they cannot continue to resource the vast amount of clearances and maintenance of the land from misuse. A PSPO enables the Council and TCCT to work together to tackle these problems.
The aim is to ensure that Hopes Nose remains open and accessible for all who wish to enjoy it responsibly. It would provide more enforcement options to tackle the anti social behaviour that has come to define the area for many years.
If someone does not comply with any terms of the PSPO they are committing an offence and may be issued an £80 fixed penalty notice, which if paid will avoid any further court action. Or they may be prosecuted at court and receive a larger fine. Persons authorised to enforce the PSPO are Officers of Torbay Council and Devon and Cornwall Police Service and persons working for and on behalf of Torbay Coast and Countryside Trust.
Yes!! Hopes Nose is an excellent and famous angling location, we wish to keep it that way. The majority of anglers are responsible people who care passionately about not only fishing but the environment too. A reduced mackerel catch seeks to ensure a reasonable personal consumption allowance, whilst curbing more excessive volumes being removed. All anglers consulted with have been supportive of this approach.
As a means of helping protect all of our coastline we would ask anglers to adhere to a code of conduct developed by the coastal management partnership SeaTorbay Opens in a new window False.
Torbay Council has been working closely with a number of partners such as TCCT, Inshore Fisheries and Conservation Authority (IFCA), SeaTorbay, Torwood and Wellswood Community Partnership, Torbay and Babbacombe Association of Sea Anglers, ward Councillors, Natural England, English Riviera Global Geopark and Devon and Cornwall Police Service. Further consultation has taken place with many other anglers and users of Hopes Nose.
If you would like to volunteer your time to help keep Hopes Nose clean and tidy, you can contact TCCT who would love to hear from you on 01803 520022 or email info@countryside-trust.org.uk False.
You can also help by reporting any issues you see of concern to TCCT using the contact details above. The more people that speak up about these issues the better – it helps us target our efforts most effectively and efficiently, ensuring the PSPO can be enforced where necessary.
---